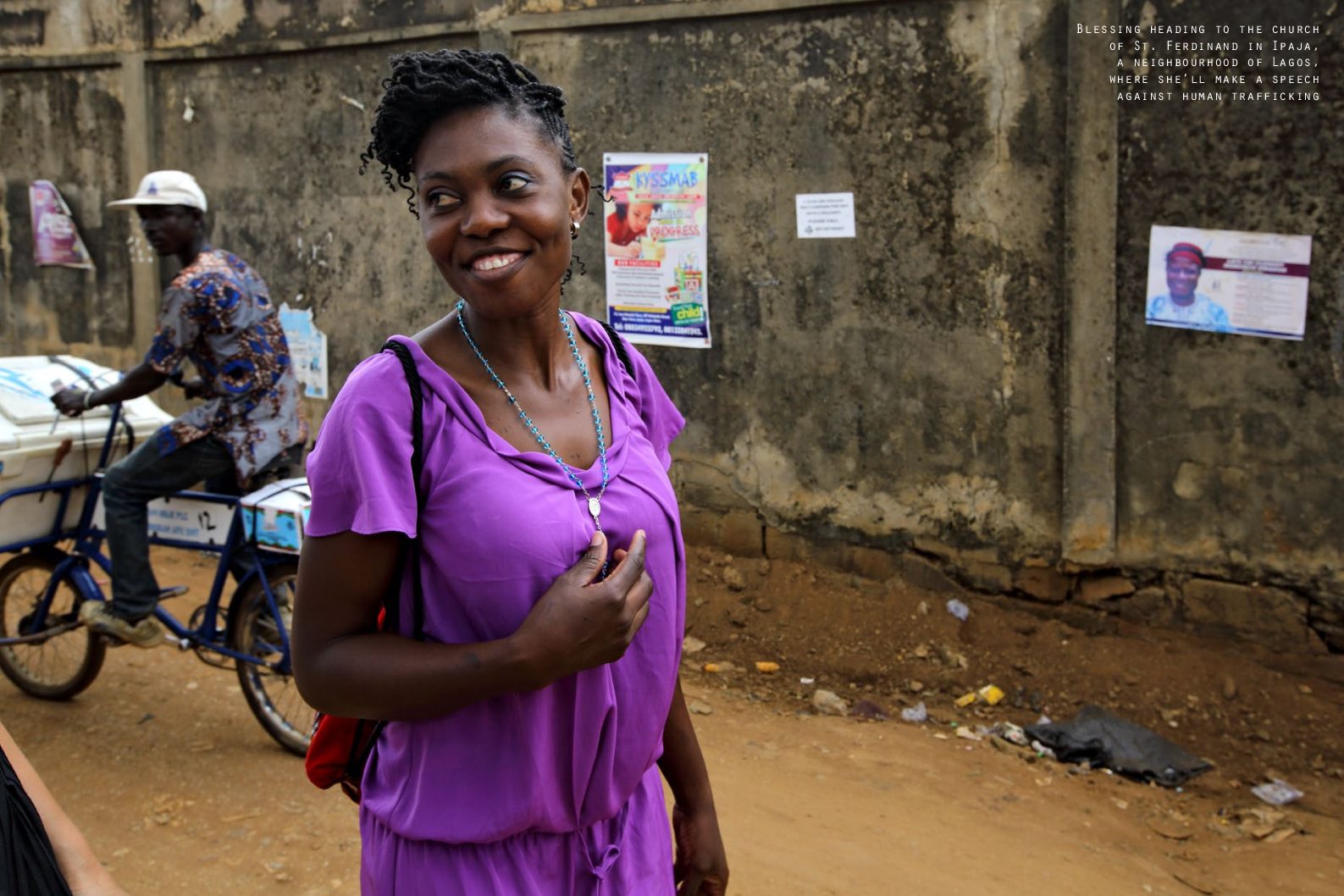 "I was completely stunned, incredulous, afraid, disoriented. Maman Faith introduced me to my new job and my new life in Europe. A life on the street. At that moment, I learned that I had ended up in the hands of traffickers. That I had become their slave. How could this have happened? Many questions crowded into my head. Even today I am unable to answer. But now I am convinced that I had to go through that experience of evil to discover the true good. For this reason I thank God, because what I experienced on my skin now allows me to speak and perhaps free other women. I had to go down into the abyss to be reborn to a new life. "
So Blessing tells in her book "The courage of freedom, the story of Blessing Okoedion, escaped of hell of trafficking" written together with the co-author Anna Pozzi.
In Benin City, Blessing meets a woman who suggests that she goes to work for her brother in Europe. She does not realize that this is how she entered the hands of the Nigerian Camorra. From Spain, she arrives in Italy where that computer store promised to her does not exist (Blessing is a graduate) but the "street". After a few days she manages to rebel, flee and has the courage to denounce. She is taken to "Casa Rut", in Caserta where, thanks to the guidance of the Ursuline nuns and in particular to the meeting with Sister Rita Giaretta, she tries to reconstruct herself, her life, her faith transmitted by her father, together with the value of the study.
As Gabriella Bottani witnesses, head of Talitha Kum, – the worldwide network of religious women against human trafficking – in Africa, the percentage of victims among minors rises up to 70%.
 In both Europe and Italy, trafficking in Nigerian women is growing; many of them are minors. The aim is sexual exploitation, but trafficking is much more: it is the commodification of life, sexual and work exploitation, total annihilation. Pope Francis defined trafficking as "a crime against humanity".
In Italy this human trafficking is concentrated in Castel Volturno, in the Caserta and Turin. In recent years, it has evolved because it is linked to the growing number of landings and to the very strong increase in demand, that is customers. It is estimated that sexual performance varies between nine and ten million in a month. In Europe, trafficking has become a more profitable illegal drug business. According to Anna Pozzi, "this exploitation affects almost all Nigerian women who continue to arrive in Italy where, in 2014, 1400 young Nigerian women landed and in 2015 they rose to 5600. If among the foreign children the percentage of girls fluctuates between 5 and 7%, among Nigerian children the percentage of girls is 40%. "
This book was born from the need to denounce, redeem and the desire to transmit fundamental values ​​such as dignity and freedom to women victims of exploitation. This is why Blessing has been named "anti-trafficking heroin" by the United States Department of State.