How the project was born
In September 2020, a group of Protection4Kids Volunteers visited different refugee camps in Greece during a humanitarian mission. Passing by the Eleonas, Malakasa, Schisto camps, and after having met various groups needing assistance , we understood that there is a huge need for concrete help in the area, which we have committed to bring personally.
Among the camps we have visited, the Kurdish camp of Lavrio, about an hour from Athens, hosts about 280 people, 42& of which are minors. The adults present are divided between refugees and Kurdish political activists coming mainly from Syria (41.43%) and Afghanistan (26.43%).
The peculiarity of this camp is the fact that it is internally self-organised by the inhabitants, who follow the principles of democratic confederalism, based on the Rojava model.
What We Do
The work Protection4Kids does concentrates on two fronts: on the one side, we send new groups of volunteers on periodic humanitarian missions, after adequate training. Volunteers are crucial for the distribution of essential goods, for the offer of workshops for adults and children, for the assistance to refugees, for listening and comforting. The group is always formed by some doctors, to help limit the spread of sanitary problems in the camps
A second front Protection4Kids works on is the collection of data and testimonies, with which we are working on a report on the living conditions in the camps which has the aim of highlighting human rights violations.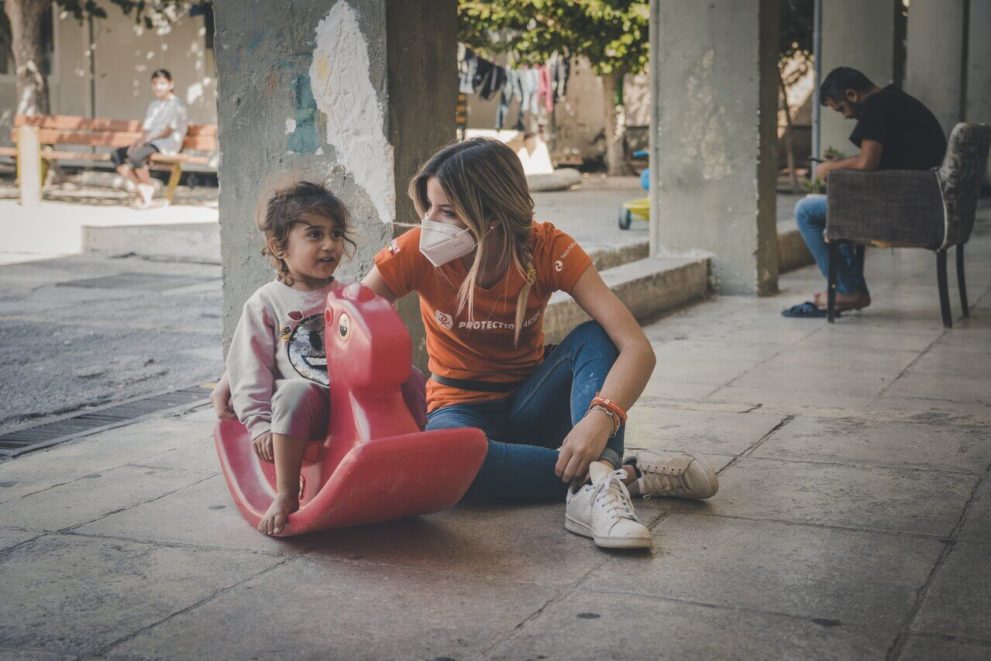 Claudia Manzone, our colleague and volunteer in Greece, writes:
"When we think about Kurdistan, we think about separatists demands and the fight against terrorism. The reality of the Lavrio camp differs from these normal narrations and revises the experience of Rojava, although in a limited way.
This experience is characterised by great ideals which we typically, and sometimes exclusively, associate to the West. But thinking femminist is thinking Kurd!
Thinking about a society of equals, which are so thanks to the welcoming of differences, be it sexual, religious and of origin.
'Women and men are same' is an apparently average and vague concept, but, when it is born in an environment notoriously obstructive to a feminist management, it can assume a different strength and, at times, violence.'
"The humanity present in the act of giving is difficult to express.
Today, we left with the aim of opening the doors to our country through the culinary symbol which represents it: pizza!
In the end, the borders which opened were many more: Kurdish music accompanied a moment which was born singing, cooking and talking: about food, about music and, on a more malincolic note, on themes like the Kurdish issue and the Syrian war.
Giving for the sake of giving, but knowing at the same time we are getting back the richness of diversity, in all its subtleties."